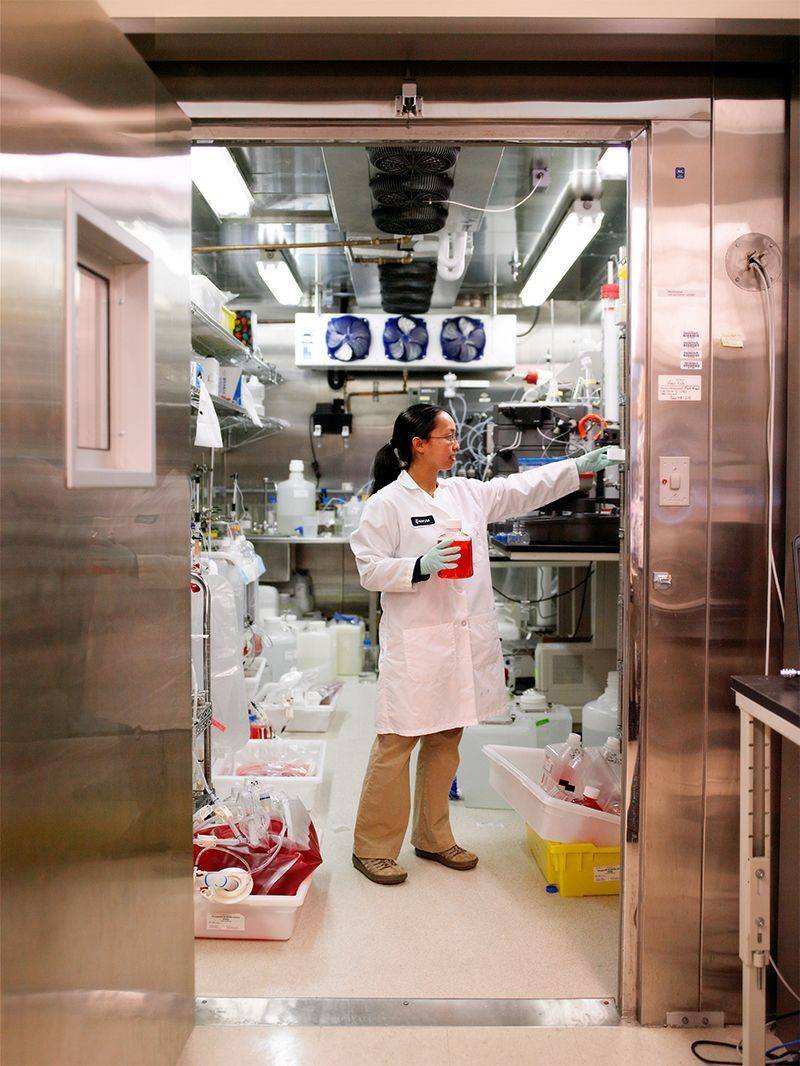 A venture under pressure
Scientific innovation has long powered the San Francisco Bay Area's economy, but community and political challenges could undermine progress.
From the integrated circuit to synthetic insulin, mail-order genetic tests and ride sharing, scientific discoveries and technologies developed by researchers and engineers in the San Francisco Bay Area have fuelled the local economy for decades.
But while politicians and urban planners around the world try to emulate the Bay Area's path to economic success through research prowess, locals and social scientists are asking whether the region's model of growth is sustainable. The Bay Area is burdened by the high cost of housing, income inequality, homelessness, gridlocked traffic, and inadequate public transportation. These threaten to undermine the region's status as an economic dynamo. "The viability of the innovation economy is in question," says Benjamin Grant, a director at the non-profit San Francisco Bay Area Planning and Urban Research Association (SPUR).
"The problems the Bay Area is facing are the problems of success," says Grant. The northern California metropolis is among the top 50 science cities in the Nature Index, measured by its contribution to the authorship of 82 high-quality research journals. When assessed solely on the output of its corporate institutions, it ranks number one. The question is whether the Bay Area can, in the face of mounting social problems, retain these companies and the brilliant researchers whose work they depend on.
Network effects
In the 1970s, the Boston area, with its prestigious universities and long-established corporations, would have been a good bet to become the tech industry hub, says AnnaLee Saxenian, a political scientist and dean of the School of Information at the University of California, Berkeley. But an unusual culture in the Bay Area of open exchange between researchers, companies and universities, as well as strong ties to venture capital, she says, fostered science and engineering research, particularly in Silicon Valley. This sharing and information free-flow arose, in part, from the values of the 1960s hippie counterculture, which was centred in San Francisco.
"Engineers were reacting against the corporate culture of the east coast," says Saxenian. Talented scientists and engineers came to the Bay Area from around the world to have access to networks, prototyping and venture funds. And venture capitalists looking for the next big thing, says Saxenian, found it in labs at Stanford University, and at the University of California's campuses in San Francisco, Davis and Berkeley.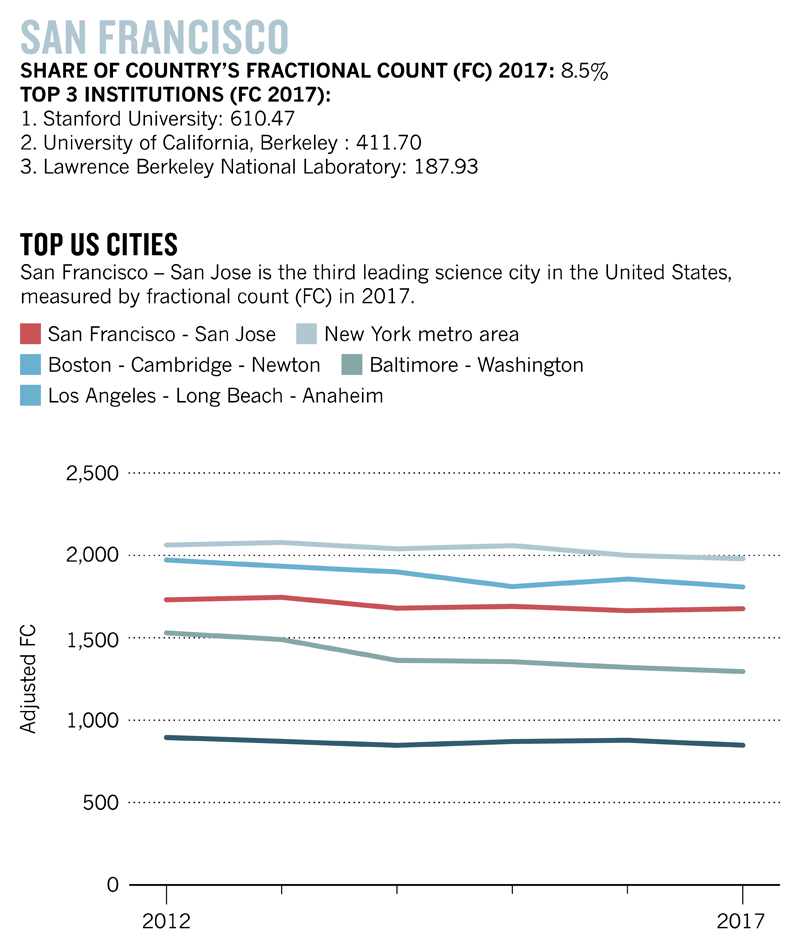 The city has attracted many high-achieving scientists in the natural sciences. Zora Modrusan, who develops gene sequencing and analysis techniques at the biotech company Genentech, says the strength of the biotech industry drew her to the Bay Area from Canada 19 years ago. "It's very dynamic and interactive," she says. Since 2015, Modrusan has co-authored some 20 articles in the index journals, developing methods for analysing the functional significance of genetic changes in cancer and other diseases. Her current work seeks insights into the heterogeneity within tumours.
James Hedrick, a materials scientist at IBM Research–Almaden in San Jose, says his work has benefited from exchanges with the region's biologists, machine-learning experts, and catalysis chemists. Hedrick engineers new polymers and has co-authored more than a dozen articles in index journals over the past three years. Initially, IBM was using these materials in part of its chip-making process; now, Hedrick is developing them for devices to deliver targeted drug therapies.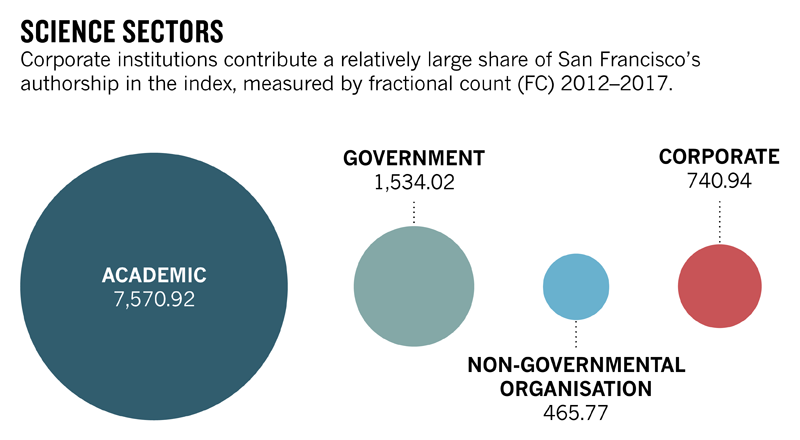 Backlash
If you ask a local in San Francisco, you might hear a different take on what the Bay Area's booming innovation economy means: inadequate public transportation and gridlocked traffic (made all the more galling by the privately owned 'tech buses' pulling into public bus stops), growing income inequality, the displacement of communities of colour, and homelessness.
Perhaps the most severe challenge in the region is housing. Real estate company Zillow estimates that the median monthly price for a two-bedroom rental in San Francisco averages US$4,130, towering over the nationwide average of US$1,442, and more than a thousand dollars above New York and Boston. At last count, in January 2017, there were 7,499 homeless people in the city; these numbers have remained fairly steady since 2013.
Grant says the current crop of innovation-driven companies has failed to engage with these civic problems. For better or for worse, he says, "the world of research and innovation has been a world apart in California."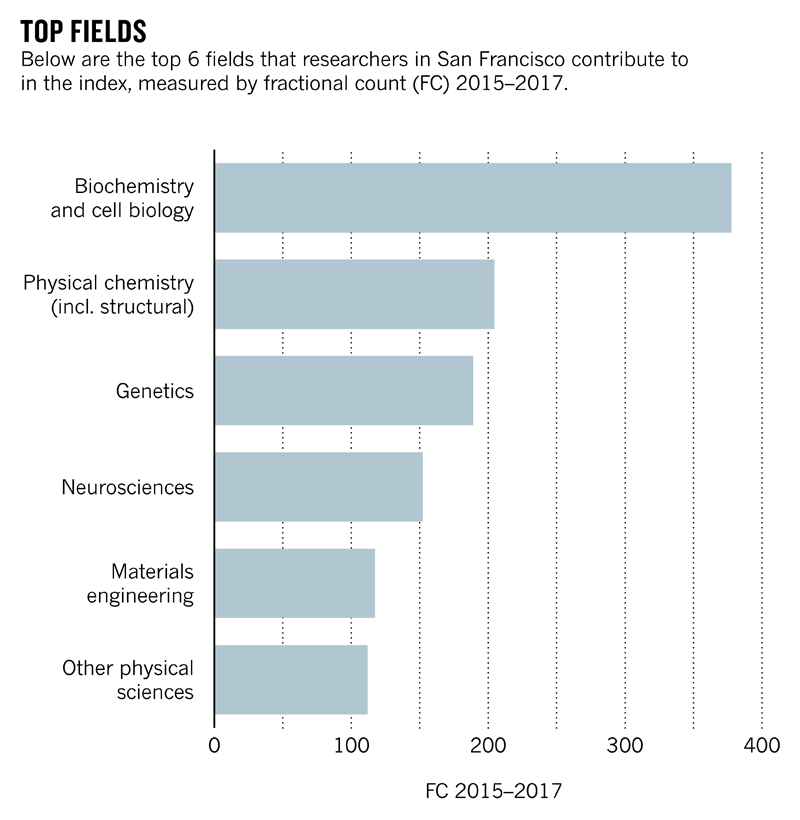 Although the tech industry has increased demand for housing and driven up prices, it does not carry the full blame for the city's social ills, says Alex Schafran, a geographer at the University of Leeds, in the United Kingdom, who studies California's housing crisis.
Broader cultural forces and political failures have contributed. Most people agree that the Bay Area needs more housing, but no one wants tall buildings to go up in their own neighbourhoods, says Grant. And under California's system of government, even if regional planning authorities agree on the need for more housing and public transit, local communities can veto such construction. Building outside developed areas is restricted by conservation regulations that protect large swaths of park lands.
These woes are eroding quality of life in the Bay Area, says Grant, and making it ever more difficult for companies and universities to hire and retain the best researchers and students. Companies are also beginning to move elsewhere, he says. As further evidence of the trend, San Francisco's output in the index has declined in recent years, from a fractional count of 1,723.8 in 2012 to 1,676.35 in 2017.
Such regional declines are hardly unprecedented. "At one time Detroit was the centre of innovation in the United States, and Detroit collapsed," says Grant. But he sees hope in moves by state legislators. California Senate Bill 827, introduced in January 2018 by San Francisco's State Senator Scott Wiener, would have enabled the construction of more housing near public transportation hubs. The bill didn't pass, but that it was even proposed is a sign that the tides may be shifting, says Grant.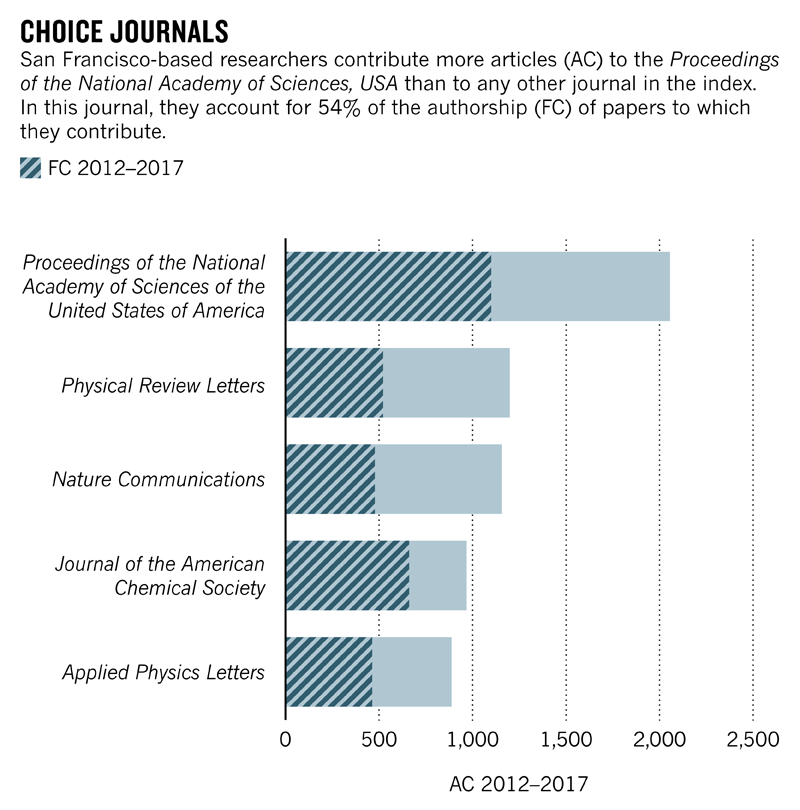 Saxenian is more reserved in her projections, and for good reason. Her first paper about Silicon Valley predicted that the high cost of living would drive the tech industry out of the area. That was in the 1980s. "I was wrong," she says. The same conditions that drove the development of the Bay Area's strong culture of scientific innovation make it resilient.
Saxenian sees other threats to research innovation in the Bay Area: repeated cuts to the University of California's budget, and restrictive immigration policies, in particular. "Immigration has been beneficial both to the Bay Area and to other countries," says Saxenian, who has written a book (The New Argonauts) on the subject. "Talent goes both ways," she says. But this mutual benefit gets lost in the national political conversation.
Schafran, who grew up in the Bay Area, says researchers and engineers need to get more involved in addressing its social ills — but there are no quick fixes. Since they've been building for decades, "it's gonna take another 30 years to get ourselves out of it," he says. "We can't do this overnight." If researchers remain detached and don't think locally, it could be to their own detriment. "You may be on the top of the world for the moment, but don't get too comfortable," says Grant.
This article is part of Nature Index 2018 Science Cities, an editorially independent supplement. Advertisers have no influence over the content.
Also Interesting

New Climate Model to Be Built from the Ground Up

Scientists and engineers rethink how to model and predict climateNews Writer: Robert Perkins Current climate modeling relies on dividing up the globe into a grid and then computing what is going on in each sector of the grid, as well as how the sectors interact with each other. Credit: Tapio Schneider/Kyle Pressel/Momme Hell/Caltech Facing the certainty of a changing climate coupled with the uncertainty that remains in predictions of how it will change, scientists and engineers from across the country are teaming up to build a new type of climate model that is designed to provide more precise and actionable predictions.  Leveraging recent advances in the computational and data sciences, the comprehensive effort capitalizes on vast amounts of data that are now available and on increasingly powerful computing capabilities both for processing data and for simulating the earth system.  The new model will be built by a consortium of researchers led by Caltech, in partnership with MIT; the Naval Postgraduate School (NPS); and JPL, which Caltech manages for NASA. The consortium, dubbed the Climate Modeling Alliance (CliMA), plans to fuse Earth observations and high-resolution simulations into a model that represents important small-scale features, such as clouds and turbulence, more reliably than existing climate models. The goal is a climate model that projects future changes in critical variables such as cloud cover, rainfall, and sea ice extent more accurately – with uncertainties at least two times smaller than existing models. "Projections with current climate models—for example, of how features such as rainfall extremes will change—still have large uncertainties, and the uncertainties are poorly quantified," says Tapio Schneider, Caltech's Theodore Y. Wu Professor of Environmental Science and Engineering, senior research scientist at JPL, and principal investigator of CliMA. "For cities planning their stormwater management infrastructure to withstand the next 100 years' worth of floods, this is a serious issue; concrete answers about the likely range of climate outcomes are key for planning." The consortium will operate in a fast-paced, start-up-like atmosphere, and hopes to have the new model up and running within the next five years—an aggressive timeline for building a climate model essentially from scratch.  "A fresh start gives us an opportunity to design the model from the outset to run effectively on modern and rapidly evolving computing hardware, and for the atmospheric and ocean models to be close cousins of each other, sharing the same numerical algorithms," says Frank Giraldo, professor of applied mathematics at NPS. Current climate modeling relies on dividing up the globe into a grid and then computing what is going on in each sector of the grid, as well as how the sectors interact with each other. The accuracy of any given model depends in part on the resolution at which the model can view the earth—that is, the size of the grid's sectors. Limitations in available computer processing power mean that those sectors generally cannot be any smaller than tens of kilometers per side. But for climate modeling, the devil is in the details—details that get missed in a too-large grid.  For example, low-lying clouds have a significant impact on climate by reflecting sunlight, but the turbulent plumes that sustain them are so small that they fall through the cracks of existing models. Similarly, changes in Arctic sea ice have been linked to wide-ranging effects on everything from polar climate to drought in California, but it is difficult to predict how that ice will change in the future because it is sensitive to the density of cloud cover above the ice and the temperature of ocean currents below, both of which cannot be resolved by current models. To capture the large-scale impact of these small-scale features, the team will develop high-resolution simulations that model the features in detail in selected regions of the globe. Those simulations will be nested within the larger climate model. The effect will be a model capable of "zooming in" on selected regions, providing detailed local climate information about those areasand informing the modeling of small-scale processes everywhere else. "The ocean soaks up much of the heat and carbon accumulating in the climate system. However, just how much it takes up depends on turbulent eddies in the upper ocean, which are too small to be resolved in climate models," says Raffaele Ferrari, Cecil and Ida Green Professor of Oceanography at MIT. "Fusing nested high-resolution simulations with newly available measurements from, for example, a fleet of thousands of autonomous floats could enable a leap in the accuracy of ocean predictions." While existing models are often tested by checking predictions against observations, the new model will take ground-truthing a step further by using data-assimilation and machine-learning tools to "teach" the model to improve itself in real time, harnessing both Earth observations and the nested high-resolution simulations.  "The success of computational weather forecasting demonstrates the power of using data to improve the accuracy of computer models; we aim to bring the same successes to climate prediction," says Andrew Stuart, Caltech's Bren Professor of Computing and Mathematical Sciences. Each of the partner institutions brings a different strength and research expertise to the project. At Caltech, Schneider and Stuart will focus on creating the data-assimilation and machine-learning algorithms, as well as models for clouds, turbulence, and other atmospheric features. At MIT, Ferrari and John Marshall, also a Cecil and Ida Green Professor of Oceanography, will lead a team that will model the ocean, including its large-scale circulation and turbulent mixing. At NPS, Giraldo will lead the development of the computational core of the new atmosphere model in collaboration with Jeremy Kozdon and Lucas Wilcox. At JPL, a group of scientists will collaborate with the team at Caltech's campus to develop process models for the atmosphere, biosphere, and cryosphere. Funding for this project is provided by the generosity of Eric and Wendy Schmidt (by recommendation of the Schmidt Futures program); Mission Control Earth, an initiative of Mountain Philanthropies; Paul G. Allen Philanthropies; Caltech trustee Charles Trimble; and the National Science Foundation. More information can be found at https://clima.caltech.edu.Related Links: CliMA: The Climate Modeling AllianceSoCaltech Feature: Cloud Sourcing

Focusing on the Negative is Good When it Comes to Batteries

New concept based on fluoride ions may increase battery lifespansNews Writer: Whitney Clavin An illustration of the electrolyte solution used in the new study, on the atomic scale. The fluoride ion (pink) is surrounded by a liquid of BTFE molecules.Credit: Brett Savoie/Purdue University Imagine not having to charge your phone or laptop for weeks. That is the dream of researchers looking into alternative batteries that go beyond the current lithium-ion versions popular today. Now, in a new study appearing in the journal Science, chemists at several institutions, including Caltech and the Jet Propulsion Laboratory, which is managed by Caltech for NASA, as well as the Honda Research Institute and Lawrence Berkeley National Laboratory, have hit on a new way of making rechargeable batteries based on fluoride, the negatively charged form, or anion, of the element fluorine.  "Fluoride batteries can have a higher energy density, which means that they may last longer—up to eight times longer than batteries in use today," says study co-author Robert Grubbs, Caltech's Victor and Elizabeth Atkins Professor of Chemistry and a winner of the 2005 Nobel Prize in Chemistry. "But fluoride can be challenging to work with, in particular because it's so corrosive and reactive." In the 1970s, researchers attempted to create rechargeable fluoride batteries using solid components, but solid-state batteries work only at high temperatures, making them impractical for everyday use. In the new study, the authors report at last figuring out how to make the fluoride batteries work using liquid components—and liquid batteries easily work at room temperature.  "We are still in the early stages of development, but this is the first rechargeable fluoride battery that works at room temperature," says Simon Jones, a chemist at JPL and corresponding author of the new study. Batteries drive electrical currents by shuttling charged atoms—or ions—between a positive and negative electrode. This shuttling process proceeds more easily at room temperature when liquids are involved. In the case of lithium-ion batteries, lithium is shuttled between the electrodes with the help of a liquid solution, or electrolyte.  "Recharging a battery is like pushing a ball up a hill and then letting it roll back again, over and over," says co-author Thomas Miller, professor of chemistry at Caltech. "You go back and forth between storing the energy and using it."  While lithium ions are positive (called cations), the fluoride ions used in the new study bear a negative charge (and are called anions). There are both challenges and advantages to working with anions in batteries.  "For a battery that lasts longer, you need to move a greater number of charges. Moving multiply charged metal cations is difficult, but a similar result can be achieved by moving several singly charged anions, which travel with comparative ease," says Jones, who does research at JPL on power sources needed for spacecraft. "The challenges with this scheme are making the system work at useable voltages. In this new study, we demonstrate that anions are indeed worthy of attention in battery science since we show that fluoride can work at high enough voltages." The key to making the fluoride batteries work in a liquid rather than a solid state turned out to be an electrolyte liquid called bis(2,2,2-trifluoroethyl)ether, or BTFE. This solvent is what helps keep the fluoride ion stable so that it can shuttle electrons back and forth in the battery. Jones says his intern at the time, Victoria Davis, who now studies at the University of North Carolina, Chapel Hill, was the first to think of trying BTFE. While Jones did not have much hope it would succeed, the team decided to try it anyway and were surprised it worked so well.  At that point, Jones turned to Miller for help in understanding why the solution worked. Miller and his group ran computer simulations of the reaction and figured out which aspects of BTFE were stabilizing the fluoride. From there, the team was able to tweak the BTFE solution, modifying it with additives to improve its performance and stability. "We're unlocking a new way of making longer-lasting batteries," says Jones. "Fluoride is making a comeback in batteries." The Science study, titled, "Room Temperature Cycling of Metal Fluoride Electrodes: Liquid Electrolytes for High Energy Fluoride–Ion Cells," was funded by the Resnick Sustainability Institute and the Molecular Materials Research Center, both at Caltech, the National Science Foundation, the Department of Energy, and the Honda Research Institute. Other authors at Caltech during the study include Christopher Bates, Brett Savoie, Nebojša Momčilović, William Wolf, Michael Webb, Isabelle Darolles, and Nanditha Nair.

Uncertain Airspace: Changing career paths is disorienting and exhilarating

Pursuing a new career makes PhD student Jonathan Wosen feel like a baby goose—and he loves it. Sometimes I ask people, "if you weren't studying biology, what would you do?" At first, they're taken aback, and I don't blame them. PhD students are self-selected for a certain kind of persistent, focused thinking; that's what it takes to become the world's leading expert on your thesis project. We are as deeply immersed in our work as a fish in water. That makes asking a graduate student to consider a different field of study a lot like asking a fish to imagine life on dry land. Initially, there's some flailing of fins and gasping for air, but the answers come. "I think I would do computer science, or engineering." "Maybe chemistry, or biochemistry. Is that too close to biology to count?" "It would be fun to try math." In my experience, the responses are all variations on a single theme: most students would opt for some other STEM field. But my answer doesn't fit the mold. I would go into journalism. From an early age, I was awed by newscasters' power to shape my perception of the world. With a single report, they could expose corruption, challenge governments, and make me care about people and places I had never heard of. These experiences left me with a deep interest in how news stories are told as well as what and whose stories are told. Nevertheless, science remained my primary passion. Ever since elementary school, when I told my principal that I wanted to be a lab technician, I've never considered another career. That's pretty odd given that there are no scientists in my family, who emigrated from Ethiopia in the 80s before taking up low-wage jobs in east San Diego. I chalk it up to all the hours spent watching Bill Nye the Science Guy and The Magic School Buswhen I wasn't watching the news. The logic behind applying to graduate school was simple: I wanted to be a scientist, scientists have PhDs, and therefore I should get one. If only what followed had been so straightforward. Progress on my project, which involves growing finicky stem cells to learn about celiac disease, has been excruciatingly slow. I love learning about science and sharing my knowledge with others, but the day-to-day minutiae of my research project does wear me down. Last year, during my third year of graduate school, I was constantly anxious and stressed, and, worst of all, didn't tell anyone that I was struggling. I felt obligated to stick to the script I had written for myself: the boy who dreamt of becoming a scientist and never stopped until he reached his goal. My family and friends had bought into this narrative too, and I didn't want to disappoint them. Plus, deep down, I still hoped to become a professor and help diversify academia; it was difficult to think that there would be one fewer black faculty member. At first, I was ambivalent about pursuing a career in science communication, and kept telling myself that I should focus on research. I was interested enough to take a course, though, and there I found a community of students, professors, and professionals who cared as much about public outreach as I did. Part of the reason I first got interested in biomedical research was because of the public benefits of studying health and disease. I realized that empowering people with an understanding of major scientific discoveries was another form of public service. After feeling siloed within my own project, it was refreshing to hear journalists talk about reading up on a wide range of scientific discoveries and having the freedom to ask basic questions. Throughout the course, I could feel my natural excitement and scientific curiosity start to return. I checked out books from the library on science writing, contacted editors for freelancing opportunities, and shared my aspirations with friends and family. So far, their responses have all been positive. So that's where I'm at right now. I think that finishing my PhD will open new and better opportunities, so that's the plan. In the meanwhile, I intend to get as much communications experience as I can—blogging, podcasting, and writing for publications in the coming years. In eastern Greenland (trust me, this is relevant), barnacle geese nest in towering, rocky cliffs that keep young goslings away from predators but also away from food. Eventually, the goslings must leave their nests for the green fields below. There's only one problem: they can't fly. What they do instead is literally jump off the cliff, spreading their tiny, fluffy bodies to create drag and desperately try to steer themselves towards a (relatively) soft landing. It's a wonder that any of them survive. In a sense, I feel like one of those goslings right now. Suspended in uncertain airspace, embracing the unknown, steering myself towards a better future. Oh, and hoping that I don't crash on the way down. Jonathan Wosen is an immunology PhD student at Stanford. You can expect more writing from this young gosling as he learns to navigate the world of science communication.