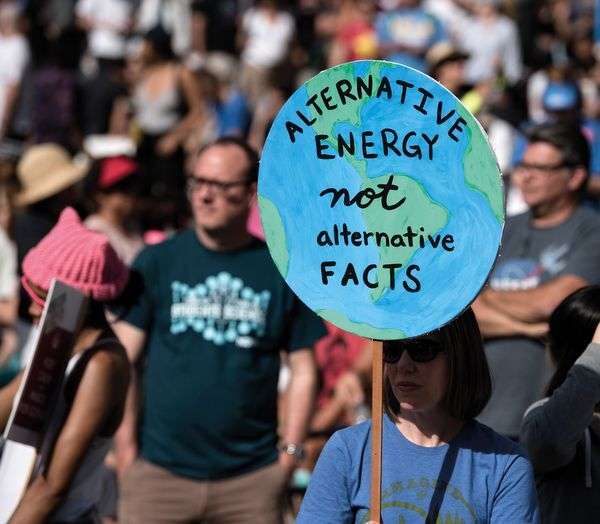 Look west for resistance
With the most to lose from looming federal funding cuts, California's researchers take a stand.
In December 2016, at a meeting of the American Geophysical Union, the governor of California, Jerry Brown, declared that if the new Trump administration stopped monitoring the Earth's climate with federal satellites, the Golden State would "launch its own damn satellites."
Brown's response followed earlier comments from a senior advisor to then president-elect Donald Trump proposing the elimination of funding for NASA's Earth science division.
It was the first of many rumours, culminating in deep reductions to federal science spending in the president's proposed budget for 2018. The announcements have coincided with moves to restrict immigration, including a sweeping review of the visa programme used by research institutions to employ foreign scientists.
"We've got scientists, we've got lawyers, and we're ready to fight," said Brown to resounding applause from the crowd of climate scientists. But scientists in California are doing much more than cheering and clapping. Like Brown, they are using their political voice to challenge what they feel has been a gradual erosion of evidence-based policy-making.
"From climate change to food scarcity to income inequality, we need people in office who can think creatively and use evidence to make decisions," says Jess Phoenix, a geologist who studies active and extinct volcanoes across four continents. In April, she announced her decision to run for Congress to represent her home district north of Los Angeles. "We need scientists to take a stand," she says.
Cutting it close
California, the most populous state in the US, has long been a science stronghold. With a weighted fractional count (WFC) of around 3,000, the research output of institutions in California in the Nature Index is nearly double that of its closest competitor, Massachusetts. For every 1,000 scientists and engineers working in the state in 2014, the United States Patent and Trademark Office granted it 45 patents — the highest in the country.
Part of the state's research dominance can be explained by the large number of life, physical and social scientists employed in California — almost three times as many as in Massachusetts. In 2016, California received 15% of the total US allocation for the National Institutes of Health (NIH) and National Science Foundation (NSF), which was the largest share for any state, amounting to US$4.6 billion.
But from its position at the pinnacle of research, California stands to lose more than any other state from the cuts to science funding proposed by the Trump administration. Trump's budget outline, released in May 2017, calls for slashing the spend by 18% for the NIH and by 11% for the NSF.
California's losses would be likely to have far-reaching implications for the research output of the wider scientific community, given that many scientists in the state collaborate with peers across the country, and the world. In 2016, institutions in California formed more than 8,400 partnerships with counterparts in other states to co-author papers included in the index — the highest in the country. California's institutions also formed the most partnerships with institutions outside the US.
Of course, a budget blueprint is just a president's wish list and an actual budget has to pass through Congress, which has largely rejected slashing funding for scientific research. The budget reconciliation for 2017 added money to federal science agencies.
There is much trepidation among scientists about what cuts will pass Congress. "We are in a period of significant uncertainty," says Randolph Hall, vice president of research at the University of Southern California (USC) in Los Angeles.
Jess Phoenix leads educational non-profit, Blueprint Earth, and is running for Congress.
If federal funding is cut, California researchers will be looking for more money from the state's budget, foundations and industry. Corporate funding currently makes up about 5% of research money, and private foundations 5–10%. State funding ranges from 2% or less at private institutions like USC, up to 11% at the public University of California system.
"While we might hope for these funds to rise in the future, it won't ever come close to the amount from federal funding agencies," says Hall, who is also the incoming president of the University Industry Demonstration Partnership, an organization that enables interactions between industry and academia.
People politics
Research also requires a reliable supply of talented people. Universities are concerned that reviews of visa policies, such as the 90-day ban on travellers from six Muslim-majority nations, and the more recent restrictions on visitors from a revised list of seven countries may affect their ability to attract and retain the world's best researchers.
When Trump's travel ban first went into effect in January 2017, Giovanni Peri, an economist at the University of California, Davis, was considering a candidate from Iran, one of the countries on the banned list, for a professor position. The selection panel decided that a different candidate was better qualified, but the administration's announcement raised many concerns about whether the suspension on travel barred them from hiring an Iranian.
Reforms to the H-1B visa for highly skilled foreign workers could also hinder university recruitment. Universities in California employed more than 3,000 H-1B visa workers in 2015, according to the Office of Foreign Labor Certification. H-1B visas are becoming even more important for universities because fewer US citizens and permanent residents are pursuing advanced degrees in science. In 2014, 25% of the students enrolled in graduate programmes in the US were temporary residents, compared to 21% in 2000.
"Universities would be impoverished and the ability to hire scientists would be reduced if the programme changed," says Peri. In an analysis of US metro areas between 1990 and 2010, he found a 1% increase in the number of foreigners filling scientific and technical positions increased the average income of college-educated native workers by 5–6% in that area.
The H-1B visa programme does not appear to be at immediate risk. But processing times have lengthened since the Department of Homeland Security suspended fast-track processing of H1-B applications in April 2017.
State-level collaboration
In 2016, institutions in California formed close to 9,500 bilateral partnerships with institutions across the country to co-author papers included in the index. The top 20 states that California institutions formed research links with are ranked by the number of bilateral partnerships.
Global research hub
California is the most collaborative state in the United States, forming the most domestic and international bilateral institutional partnerships. The top 10 most collaborative states in the country are ranked by their total number of bilateral partnerships.
Run, scientists, run
The current political climate has inspired some Californian researchers to look beyond the lab. Following the 2016 election, Phoenix found herself drawn into politics. She was dismayed to learn that her congressional representative, a member of the House Science Committee, does not believe that the federal government should regulate greenhouse gas emissions.
In April 2017, she decided to challenge for the seat in the upcoming 2018 midterm elections. Days later, she spoke at a March for Science rally in Los Angeles defending scientific research and informed decision-making.
"I'm 35. No-one else is going to get involved politically for me," says Phoenix, who runs an educational non-profit called Blueprint Earth and is a fellow at New York-based professional science society, The Explorers Club.
"Scientists have been shocked by the incompetence at every level of elected office."
Kevork Abazajian, a physicist studying the origins of the Universe at the University of California, Irvine, is also considering a run for city council — a local office. He hopes to get the town of Irvine to take more action on climate change, for one thing. "After the November election, scientists have been shocked by the degree of incompetence at almost every level of elected office," he says. "There is a history of scientists going into elected office in other countries, and that's what we need more of."
Abazajian is also the California coordinator for 314 Action, a non-profit group that supports science-savvy candidates and policies. Since January, the group (whose name comes from the value of the mathematical constant π) has organized two training sessions in Washington DC and California for scientists interested in running for office. Training included fundraising and crafting a message that sticks with voters. "You have to be a good messenger," says Abazajian.
314 Action has also supported stem cell researcher, Hans Keirstead, in California, along with volcanologist Phoenix, in their bids for Congress in 2018. Adding more scientists would shake up the decision-making process: currently only one of the 535 representatives and senators is a practising scientist with a doctoral degree — physicist, Bill Foster, of Illinois. "When California leads, the world follows," says Phoenix. "Now, more than ever, we are called to bring truly representative democracy to the fore."
Search our job roles in California
Also Interesting

How a stint in Silicon Valley unleashed one researcher's business skills

Tomasz Głowacki's career now straddles academia and industry, thanks to his participation in a leadership programme organized by the Polish government. In 2007, when I started work as a research and teaching assistant at Poznań University of Technology in Poland (a job that straddled bioinformatics research and teaching discrete mathematics, algorithms and data structures), I thought academia would be a lifelong career. I enjoyed the intellectual freedom, chance to work on challenging problems and travel opportunities. Shortly after defending my computer-science PhD thesis in 2013, I secured a place on the Polish government's Top 500 Innovators initiative, a nine-week programme in research commercialization and management at universities with high positions in the Academic Ranking of World Universities. It was set up because the Polish government thought a lack of cooperation between researchers and business was one of the main reasons for the country's low position in European Innovation Scoreboard rankings. The focus at my interview was how to commercialize my research results. I was asked about factors such as potential customers, business models and pricing. Two months later, I was one of 500 scientists sent either to the University of California, Berkeley; Stanford University, California; or the University of Cambridge, UK. The goal was to learn from the very best researchers and business practitioners. While at the Walter A. Haas School of Business at Berkeley, I spent time with researchers, practitioners and entrepreneurs from Silicon Valley. What surprised me the most was the marriage between business and academic institutions in California. Lecturers shared their experiences of research commercialization, business and start-up firms. This was very different from Poland, where a scientific career does not recognize commercial activities in terms of cooperation between business and academia. In my experience, many Polish scientists see commercialization activities as a roadblock to their academic careers. During the Berkeley training, I heard how PhD students can successfully transition into business. These lectures were delivered by Peter Fiske, who is now director of the Water Energy Resilience Research Institute at Berkeley Lab, and whose career straddles both industry and academia. Fiske focused on transferable skills between academia and business, covering data analysis, resourcefulness, technological awareness, resilience, project management, problem solving, English proficiency and good written communication. Fiske is a strong advocate of the need to market yourself as a scientist. Mark Rittenberg, a business and leadership communications specialist at Haas School of Business, taught us about the power of communication and storytelling. As scientists, we focus mostly on research results. We tend to think that the content we present is enough to sell ourselves. But in business, how you present yourself, self-confidence, an interesting story and non-verbal communication are of at least the same importance. The innovators programme included one-day visits to technology companies in Silicon Valley, and the opportunity to undertake internships at some of them. I visited Google, the software companies Splunk and Autodesk, as well as NASA and biotechnology firm Genentech. These visits helped me to understand that ambitious work and challenging problems are not just the domain of universities. I did a three-week internship at PAX Water Technologies in Richmond, California, where I was one of five Polish scientists who set up an interdisciplinary team to work on reducing household water consumption. This was a long way from our research topics, and a new area for all of us. Willingness to learn new things, self-curiosity, creativeness and being open to unexplored areas helped us to drill down into the problem and to propose a solution. All of these are standard skills for a scientist. The programme helped me to understand that scientists can be effective and successful outside academia, and that the business world is full of challenging problems to work on. But the most important conclusion for me is that the applied aspect of what I do matters the most. The best fit for me seemed to be a transition into business. Between June and September 2013, after completing the innovators programme, I applied for several research and development positions in business. I prepared a long CV that covered my research achievements. No one got back to me. It was an important lesson. As scientists, we have to understand how our skills fit current job-market demands. So I connected with some old university friends who were working in business to discuss their interview experience. I decided to revamp my CV by making the description of my education shorter and focusing on my transferable skills; I included organizational skills, experience of data-analysis techniques, language skills and my structured approach to problem solving. As scientists we focus more on problems and solutions when we describe our work. But a potential business employer is more interested in how you get there. You should focus on the tools and methods you have used, knowledge of foreign languages, and how you organize and report your work. In 2013, I found a job as an analyst at BAE Systems Applied Intelligence at its new offices in Poznań, working with IT systems and insurance data to detect customer fraud. A year later, I discussed my transition with Fiske, who told me: "Now that you are on the other side, don't lose touch with your friends in academia — seek ways to help them be more relevant to the outside world." I wanted to give something back and to find my own way to contribute to the academic world. I am now head of product development at Analyx, an international marketing data-analytics company, and also work part-time at Poznań School of Banking as a business practitioner, teaching project management as well as systems analysis and design. I discuss the real business cases I face with my students. I also organize lectures and meetings for students with business experts, chief executives and consultants. Some of these have started long-term academic collaborations, and they provide a great opportunity for students to learn from practitioners and to land internships. I have managed to organize a master's programme between academia and business. Students have the chance to get involved in hot industry topics supervised by business experts, and to present results and defend their theses at their universities. Teaching based on my personal experience is more satisfying for me. Leaving academia was not a failure. It helped me to explore new opportunities, to better understand my professional expectations and to find the career path that fits me best. This is an article from the Nature Careers Community, a place for Nature readers to share their professional experiences and advice. Guest posts are encouraged. You can get in touch with the editor at naturecareerseditor@nature.com.

Meditation on a Caltrain: Understanding where to travel to next

Exploring options and thinking laterally about where you can use your scientific skills might be the key to successfully transitioning into industry, learns George Busby. This piece was one of two winners of the Science Innovation Union writing competition, Oxford. "This is downtown San Francisco, our train's final stop. Can all passengers please detrain? All detrain please. All detrain." Perhaps it was the heady fug of jetlag that made this broadcast particularly amusing to my UK-English language sensibilities, but I "detrained" all the same and stepped into the crisp morning air of the Californian rush hour. I was on the west coast to visit two genetics start-ups as part of a whirlwind three-day tour of the US. With a long postdoc and several first author papers tucked into my belt, I wanted to see if these credentials would pass muster in the tech haven of Silicon Valley. I've always found the loneliness of solo work-travel to be highly amenable to strategic thought, and this American adventure was an opportunity to reflect on why I was there and what I wanted. Back in Oxford, a few months earlier, I had begun to line-up my post-postdoc career options. A new and exciting big-data research institute has just opened and my supervisors were keen that I apply for money to start my own research group there. Excited by the prospect of doing interesting science somewhere new, I began to piece together the semblance of a research proposal with collaborative support. But then a strange thing happened. As the project began to take shape, the light at the end of the tunnel — the prize of scientific independence — began to feel not closer, but further away. Ahead of me were late nights and early mornings of writing pages and pages of a scientific proposal. After that, a year-long wait to find out that I'd been unsuccessful (a mere 15-20% of applicants for an early career Wellcome Trust Sir Henry Dale Fellowship get funded). Despite everything, my future was dependent on a number of factors that were out of my control. On top of this, there was the burgeoning realisation that no one actually reads the academic papers that I write. This is no moot point: writing papers is the main purview of a research scientist, and the central way we both communicate our results and measure success. However, compared to the proportion of the world's population who can read, the number of people that had sat down to ingest my latest, dense, and fascinating (to me at least) treaty on the population genetics of Africa, three years in the making, was minuscule. The words of a colleague rang in my head: "99.9% of scientific papers just don't get read". Did I really want to spend the next 18 months slogging it out against funding agencies to get my own money just to do yet more science that no one was going to read? I forced myself to think more fundamentally about what I wanted to do. If I wanted to use my science to make a real and lasting impact and do things that make a real difference in the world, then writing academic papers is only one route to success. So, I blew the cobwebs off my LinkedIn account and started to hit up my small network of commercial contacts to investigate what companies out there in the big wide world might value my hard-won scientific expertise. This led me to California, where the streets are paved with gold and to the heart of the world's tech industry. I'm by no means the first, and will certainly not be the last, person to have grown tired of the uncertainty of pursuing an academic research career. Despite the best efforts of university career departments, the option of staying in academia has always felt like the only real way to keep doing the science that I wanted to do: any other path would force a compromise or feel like I was quitting. But, perhaps I'd been looking at things the wrong way round. Rather than proposing whatever research was 'hot' at any given moment to funding bodies to maintain a decent university career trajectory, I should instead consider what my scientific ambitions are, then find the place to do them without limiting myself to academia. This way of thinking — that I could achieve my scientific objectives without compromise in either academia or industry — has been made possible for two reasons. Firstly, by luck as much as design. I work in a field, human genomics, where there are increasing options for work outside of universities: the number of commercial enterprises is exploding. If there was ever a time to jump into industry, it's now. Second, I'd underappreciated how employable I am. I've led methodological and analytical research projects, written papers, and worked to communicate my science. Coupled with some in-depth genomics knowledge, these are all highly desirable qualities in the biotech world. So I reached out to two Californian companies, both of which do scientific research that's not a million miles away from my day-to-day. Visiting them allowed me to see with my own eyes how work in industry differed from academia. I was surprised to learn that research jobs at both companies were not purely about making marketable products: there was a certain amount of trial and error to the work that they do, and not all of the research that they do is expected to end up as a viable product. They were also both mature enough to have teams of people working on marketing, accounts, PR, and software engineers, who were supported by the sales of the main product, but not scientists themselves. The possibility of collaborating with these people is exciting, providing new avenues for communicating and justifying the work of the research teams. Importantly, both companies sell my flavour of science to millions of customers — working for them would mean I could impact orders of magnitude more people, orders of magnitude more quickly than any scientific research I could hope to do in a university over the next few years. If impact and scientific reach is what I want, then this seems like a far better way to achieve it than waiting for a year to hear on the unlikely success of a research grant. I was beginning to feel like Lady Justice with my balance scales measuring the benefits and costs of academic versus commercial employment. Sure, academic research is dominated by uncertain funding cycles and can feel glacially slow at times, but that's not necessarily a bad thing. Some view it as a privilege to be able to devote one's time exclusively to fully understanding a specific question, and there's no denying the satisfaction that comes with finding stuff out. Plus, I've been fortunate enough to work with incredibly talented people who've given me the intellectual freedom to spend my days thinking about the things that I want to think about. There's clearly a lot to be said for being able to concentrate on the questions that one believes to be important and worthwhile. But with a wife and a growing family I've also reached the age where the pursuit of such scholarly freedom might appear not just selfish, but irresponsible. In common with around a third of UK families, both my wife and I work full time. Without my wife's additional income, my postdoc salary would give us a higher household income than around 42% of the population. So, despite almost ten years at university (and the debt to prove it) without two incomes, we'd be struggling to get above the median of household earners nationwide. And the double whammy of living in the least affordable city in the UK with the cost of childcare increasing at three times inflation year on year, even with two incomes, there is little monthly return on my educational investment. Moreover, from a purely financial point of view, it pays to work in industry as a life scientist, with salaries being up to 30% higher than academia. As peers from school and university began to financially pull away from me, first by buying cars that are younger than ten years old, and more recently upgrading their small flats for family houses, I've consoled myself in the knowledge that although I can't match them, I'm doing what I love. Who needs things anyway? But when you're spending a third of your take-home pay on rent and another third on childcare, there's little chance of saving much of the remaining third. Realising that you're never going to be able to buy a house in the city where you work starts to get mentally draining. Can I really justify doing the science I do, which, let's remember, no one actually reads, to just about get by? Of course, I'm far from being a pauper, or even a JAM, but wouldn't it be nice for either my wife or myself to reduce the hours we work to spend more time with our children, without having to drastically change our quality of life? There is of course risk of job security associated with working in industry, particularly for an early stage start-up. But, there is also risk associated with staying in academia, particularly given the number of PhD and postdoc scientists in the workforce, many of whom will be pushing for the same jobs. And, in industry there is the distinct possibility that your pay could match your scientific success, which is not the case when you're tied to a public sector pay scale. More than anything, my visit to California not only demonstrated that it's possible to do interesting and worthwhile science commercially, but that perhaps it's the only way to do some science. It would take many years and much grant money to generate the sorts of big datasets that some tech companies now have control of. If, as a scientist, you're interested in answering some of the big questions, perhaps it pays to ask yourself whether the best way to achieve your ambitions is through a start-up, rather than academically. What's more, at least in genomics, it's beginning to feel like detraining from the academic express onto the industry platform might be the best way to do the most relevant and engaging science. George Busby is a postdoctoral research associate in statistical genomics at the Wellcome Trust Centre for Human Genetics, University of Oxford.

Slow flow for glaciers thinning in Asia

Providing water for drinking, irrigation and power, glaciers in the world's highest mountains are a lifeline for more than a billion people. As climate change takes a grip and glaciers lose mass, one might think that, lubricated by more meltwater, they flow more quickly. However, satellite images from over the last 30 years show that it isn't as simple as that.