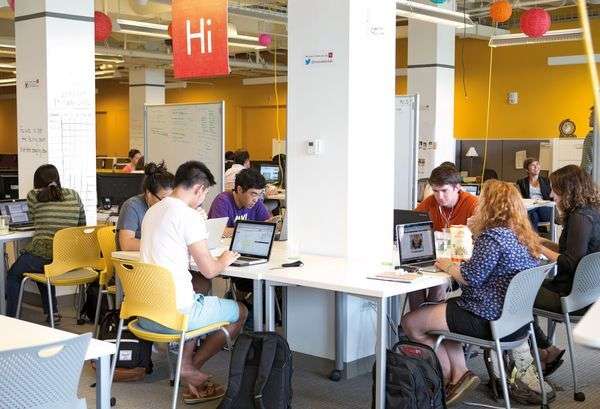 Start-ups: A sense of enterprise
Universities aid entrepreneurs by helping them to turn their research into companies. In return, universities can reap financial benefits.
Michael Schrader knew he wanted to create a company, but he wasn't sure what it should do. After six years as a mechanical engineer in the automotive industry building plastic parts, in 2010 he began a master's degree in business administration at Harvard Business School in Boston, Massachusetts. In his quest for inspiration, he took a course in commercializing science at the Harvard Innovation Lab (i-lab).
The class heard presentations from researchers who among them had developed 17 different technologies that they thought had commercial value. One in particular caught Schrader's attention — a method devised by two engineers from Tufts University that uses a silk protein to stabilize vaccines. The vaccines could be formulated as powders and mixed with water when it was time to inject them, or embedded into a film that dissolves on the tongue like a breath-freshening strip. And, because they would not need to be refrigerated, they would be easier than conventional vaccines to distribute in places such as sub-Saharan Africa.
Along with other members of his class — an economics master's student, a former physics student earning a law degree and a postdoc in the chemistry department — Schrader spent the next few months looking into potential markets for the technology, making connections with business mentors and investors, and putting together a business plan. In 2012, the team founded Vaxess Technologies, which is attempting to bring vaccine formulations to market.
"We probably are a perfect model for how universities can forge together entrepreneurs and technologies to create companies," says Schrader, now chief executive of Vaxess. The technology has not yet entered clinical testing, but the company has raised more than US$5 million, hired 11 employees, and started filing patents of its own in addition to those it licensed from Tufts University.
Although universities often license technology developed in their research laboratories to existing companies that are looking for new products, they also move discoveries off the bench and into the real world by encouraging inventors to start businesses from scratch. They offer classes in entrepreneurship, introduce researchers to investors and business experts, and even launch their own venture-capital funds. The path is trickier for life-sciences spin-offs, which take more time and money to get off the ground, than for companies based on software or electronics. And Europe has not caught up with the United States in its ability to create businesses. But universities are banking on entrepreneurs turning some of their research into products (see 'Start-up sampler').
Hubs of innovation
"We exist on taxpayer money. We have an obligation to try to get our research out into society."
Universities tend to see commercialization as part of their remit to create and disseminate knowledge. "We exist on taxpayer money. We have an obligation to try to get our research out into society," says Regis Kelly, director of the California Institute for Quantitative Biosciences known as QB3. The institute is a collaboration between the Berkeley, Santa Cruz and San Francisco campuses of the University of California. It supports life-sciences research across the campuses and tries to bring that research to market by partnering with industry and promoting entrepreneurship.
Part of the mission of the University of Colorado Boulder's BioFrontiers Institute is to aid students and faculty members who want to start new companies, says Jana Watson-Capps, associate director of the institute. "It fits with what we want to do in providing an education for our students so that they can find jobs and be good at those jobs," she says.
A similar attitude is common in the United Kingdom. "We think it's important here in Oxford to see that the fruits of our research are actually developed to benefit society," says Linda Naylor, managing director of Isis Innovation, a company created by the University of Oxford to commercialize its research.
Harvard's i-lab, which was opened in late 2011 to help students in any of the university's schools to develop businesses, is a relatively new entry in a long line of such efforts at many academic institutions. Students learn about idea generation, business-plan development and marketing. Budding entrepreneurs can attend workshops on specific hurdles that they are likely to encounter, such as how to apply for a Small Business Innovation Research grant from the federal government. A group of 'experts in residence' provides students with business expertise and introduces them to potential investors. The i-lab holds competitions such as the President's Challenge, which awards ideas that address the world's big problems. Vaxess took the challenge's top prize of $70,000 in 2012, as well as winning $25,000 in Harvard's Business Plan Contest the same year.
Because the main thrust of the i-lab is education, the university never takes a stake in any of the companies created there, says managing director Jodi Goldstein. Any intellectual property developed in a Harvard research lab belongs to the university and must be licensed, but ideas generated in the i-lab belong to the students. Goldstein hopes that the i-lab can help a future Mark Zuckerberg or Bill Gates to pursue their billion-dollar idea while still completing their degree. "We have several pretty famous dropouts around here, and I don't think that's necessary anymore," she says.
As well as education and expertise, the i-lab provides a workspace for fledging companies. Meeting rooms, computer workstations and private storage space are available, as are a workshop for building prototypes and a pair of 3D printers. The i-lab is also planning to address one of the stumbling blocks that often trips up biology-based companies: finding a space to turn a discovery made in a university lab into a more marketable version. It is building a 1,400-square-metre wet lab with 36 research benches. When Vaxess reached that stage, it moved to LabCentral in Cambridge, Massachusetts. The provider of office and laboratory space takes care of regulatory requirements and provides administrative support and laboratory personnel so that new companies don't have to spend time and money setting up their own space. It opened in 2013 with a $5-million grant from the Massachusetts government (part of an initiative to bolster life-sciences business in the state) along with support from the Massachusetts Institute of Technology and the venture-capital arm of health-care giant Johnson & Johnson. Schrader considers this industry–government–academia web of support essential to his company's launch. "We have really taken advantage of this growing entrepreneurial ecosystem," he says.
At QB3 in California, start-ups can rent lab space for as little as $85–100 per square metre per month. Unlike conventional landlords, who prefer to rent out an entire space, start-ups can rent a few hours in a fume cupboard or a shelf in a freezer, for example. "You only pay for what you actually use," Kelly says. Charging is important, mainly because it is a way of weaning its users off the university teat. "It gets people more used to being in the private sector," he says.
The need for lab space is just one reason why starting a life-sciences company can be much more challenging than, say, launching a business based on software. Any sort of pharmaceutical or medical device is subject to regulatory requirements, which leads to safety tests and clinical trials "If you're going to make a new drug you might need ten years and a billion dollars," says Watson-Capps.
These time and capital requirements make it much more difficult to drum up investment for a life-sciences start-up. Although investors might be willing to risk a couple of hundred thousand dollars on a promising software idea, most life-sciences companies need initial funding of a few million dollars. "Obviously, people don't want to throw away a million dollars, so they have to do a lot more due diligence," Kelly says. And because the time to realize a return on the investment can be so long, trading equity in the company in exchange for, say, legal services is not as popular as it is for other types of start-ups, he adds. These disparities are apparent in the investment statistics. Of the $77.3 billion in venture capital invested in the United States in 2015, software companies took in $31.2 billion — 40% of the total. Pharmaceuticals and biotechnology received a mere 12%.
Playing catch up
Europe lags behind the United States in producing start-ups of any kind, but the situation is improving. "We're certainly seeing a lot more spin-outs than we were a few years ago," says Naylor. "There is more money around that is willing to go into the early stage."
Vaxess Technologies are using silk proteins (L), which are extracted from cocoons (R), to stabilize vaccines. Image: Patrick Ho/Vaxess
She attributes that growth, in part, to the UK government's creation of the Seed Enterprise Investment Scheme in 2012, which provides tax breaks to investors in start-up companies. "The UK has been one of the leaders in providing tax incentives for investors in start-ups of all types," says Karen Wilson, who studies entrepreneurship and innovation at Bruegel, an economic think tank in Brussels. Other countries across Europe, as well as Australia, have created their own tax incentives for investors modelled on the British scheme, although Wilson says that they're often controversial, derided as tax breaks for the wealthy. In the United States, tax incentives vary by state. The biggest legal change in the United States to promote spin-offs came in 1980, Wilson says, with the passage of the Bayh–Dole act, which allowed researchers to profit from inventions created with federal funding.
US and UK Universities have even been creating their own venture funds in recent years to invest in their spin-offs. The University of Cambridge, UK, created Cambridge Innovation Capital in 2013 with an initial fund of £50 million ($71 million). In 2014, the University of California began a $250-million fund. In May 2015, Isis launched Oxford Sciences Innovation to raise an initial £300 million from investors. And, in January, University College London opened the £50 million UCL Technology Fund, and the University of Bristol, UK, started its own enterprise fund (see 'Innovation income').
Entrepreneurial ecosystems in which inventors can find facilities, investors and business experts to help them to launch their companies are important for creating successful spin-offs, and they've been growing around many European universities, Wilson says. "There are an increasing number of these entrepreneurial hubs that are emerging across Europe, which are spawning these innovative high-growth firms," she says.
In the United Kingdom, Cambridge is popular for life-sciences start-ups, and in Munich, Germany, the focus is mobile technology. In Switzerland, start-ups are clustered around the University of Zurich and the Swiss Federal Institute of Technology in Lausanne, where they focus on computing and technology. In Finland, Espoo is a hub: in 2010, three institutions combined to form Aalto University, which has strengths in communications, energy and design. Linked by a bridge across the Øresund strait, Copenhagen and Malmo in Sweden, make up another life-sciences centre. In the past year, however, the influx of refugees from the Middle East has led to a tightening of border security and made crossing the bridge more difficult for everyone.
The clampdown on migration within Europe, says Wilson, is making it harder for fledging companies to grow and spread. Expansion of their markets has always been challenging for start-ups in Europe, she says, where pushing into another country means dealing with differences not only in language and culture but also in taxes and other regulations. Many European companies get to a point at which, when they need to grow into a bigger market, they move to the United States, either of their own accord or at the insistence of their investors. "If you have a successful start-up in Italy it's much easier to go scale it in the US than it is to try to scale it across Europe," Wilson says.
But many life-sciences companies won't grow on their own, particularly if their innovation is a drug — their endgame is often to be acquired by a large pharmaceutical company once they have advanced their therapy to a promising stage.
Although life-sciences companies demand more resources than other types of start-up, they have one characteristic that can make them uniquely appealing to investors — the potential for curing a disease or improving human health. As Kelly points out, "Almost any rich person has a sick relative." If investors are going to risk their money, knowing that many of the companies they invest in will fail, they may prefer investments that have a potential for making a difference, he says. "If they're going to lose money on a business, they might as well lose it on something that could have some benefit to society."
Also Interesting

Finding Job Satisfaction as a Humanitarian Researcher

Panagiotis Vagenas left Yale University to advise a non-profit on research design and quality. What did you do before Yale? I'm from Greece originally. In 1996 — when I was 17 — I moved to London, UK. I studied biochemistry for my degree and did a PhD in immunology. When I graduated I moved to the Population Council labs at the Rockefeller University in New York to start my postdoc. What did you study? I worked on basic research in HIV. What's always motivated me is trying to help people — to have a meaningful career in that sense. So in summer 2010 I moved to Yale School of Public Health and did a master's in public health (MPH), and went on to join the faculty at the Yale School of Medicine in 2013. And then you moved to your current job. Yes – I'd just applied for a K01 grant which didn't get awarded at the time, which was a big shock. So I figured I should do something different, and what still motivated me was making an impact on people's lives. So I found the job I have now with Project Concern International (PCI). Where did you get the motivation to make an impact on people's lives? Really I grew up in an environment that was like that. My mum's a psychiatrist and my dad's a civil engineer in the public sector, so while they're not doing the kind of work I'm doing, it's always been for the public good. And then I loved biology at school so that was the start of the path that got me here. What does PCI do? Our mission is to enhance health, end hunger, overcome hardship. It's a really broad mission that wants to help people in the developing world lead better lives. I think a lot of organisations like PCI – which is funded primarily by the US government but also from other sources – appreciate research more and more in tracking the impact and sustainability of their work. Could you give me an example? I was recently in Ethiopia where myself and other members of my team designed a sustainability study for an initiative we ran to empower women in the region. The project ended six years ago for PCI, but women are still meeting and benefitting from our work there. It's not the old method of development – hand outs, a short project in the field – we want to go into these programmes knowing the impact is sustained. How are you finding the head office in San Diego? I'm enjoying the outdoors culture here in California. Everybody's out; everybody's running and hiking and enjoying the beaches year-round. I meet a lot of people from work. My parents came to visit last April and they really enjoyed it. San Diego is paradise. You can find more of this interview here.

How to make undergraduate research worthwhile

Practices might differ from country to country, but undergraduate students can be better served in research, says Shaun Khoo. One of the things that excited me about taking up a Canadian postdoctoral position was that, for the first time, I would get a chance to work with and mentor enthusiastic undergraduate researchers. I looked forward to the chance to gain mentorship skills while helping out future scientists, and maybe, eventually, freeing up some of my own time. As an Australian, I had never been pressured to volunteer in a lab — most Australian students don't do any undergraduate research unless they enroll in an extra honours year, because the law prohibits unpaid student placements that are not a course requirement. This hasn't held back overall research productivity in Australia, but it is a stark contrast to the North American environment, where many undergraduates feel pressure to get research experience as soon as they begin university. Most graduate medical students, for example, have previous research experience, and North American graduate schools have come to expect this from applicants. In Canada, nearly 90% of graduate medical students have past research experience1. Numerous articles extol2,3,4 the virtues of undergraduate research experience, but, unfortunately, evidence supporting the benefits of undergraduate research is limited. Most studies on the topic rely exclusively on self-reports that are corroborated less than 10% of the time by studies using more-direct measurements. For example, surveys find that undergraduate student researchers say that they have developed data-analysis skills — something that would normally involve lots of practical work — yet, when interviewed, most of them admit to never having done any data analysis. Like many postdoctoral researchers and graduate students, I spend most of my time with undergraduate students working on technical skills that they might need to work in the lab, but that don't necessarily improve their conceptual understanding. For example, if I teach a student how to use a cryostat, they might become proficient in slicing brains, but they won't necessarily learn how synaptic transmission works. Even if we manage to instil excitement for the intricacies of research in our undergraduate students, it's hard to avoid the conclusion that for the vast majority that continue in academic research, there will be no permanent jobs — we might just be saddling our undergraduates with unrealistic expectations. So how do we avoid wasting our time as mentors and our students' time as learners and researchers? Here are my suggestions. Consider long-term goals. Undergraduate students should reflect on how their research experiences will prepare them for professional success. Should they be aiming for research experiences that are based on their courses, because it will better improve their understanding of scientific concepts? Will a given opportunity help them to reach their career goals by getting into a professional graduate programme? Can they commit to staying with a research programme long enough to become effective and potentially be a co-author? Acknowledge and offset opportunity cost. Undergraduate research requires significant time investments from both students and research supervisors. Undertaking such research might mean forgoing paid employment or other experiences, such as student societies, sport, performing arts or campus journalism and politics. Mentors can help undergraduate students by facilitating summer-scholarship applications or finding ways for students to get course credit for their work. Train for diverse careers. Most undergraduate students will pursue non-research careers or join professional graduate programmes. Those who try to continue in academia will eventually face a bleak post-PhD academic job market. Just as PhD students need preparation for a wide range of careers, so do undergraduate students need to build a transferable skill set. Mentors can encourage undergraduate students to build communication skills by, for example, encouraging them to present in lab meetings, or facilitating teamwork by having groups of undergraduate students complete a project together. Improve undergraduate research experiences. There's limited non-anecdotal evidence that undergraduate research improves a given lab's research productivity, or even student learning, but such research isn't necessarily a waste of time. Before undergraduate students pad their CVs with research experience, they should reflect on what they will achieve by conducting research, and they should seek out meaningful projects to work on and develop relevant skills for their future career. For mentors, we have an obligation to consider the career development of undergraduate students and, for the sake of our publication records, we should aim to work with students who can commit at least a year to our projects. And, as much as possible, we should try to take the pressure off undergraduate students to do research, so that it can be an enjoyable learning experience rather than a box they need to check. doi: 10.1038/d41586-018-07427-5 This is an article from the Nature Careers Community, a place for Nature readers to share their professional experiences and advice. Guest posts are encouraged. You can get in touch with the editor at naturejobseditor@nature.com. References 1. Klowak, J., Elsharawi, R., Whyte, R., Costa, A. & Riva, J. Can. Med. Educ. J. 9, e4–e13 (2018). PubMed Google Scholar 2. Smaglik, P. Nature 518, 127–128 (2015). PubMed Article Google Scholar 3. Ankrum, J. Nature https://doi.org/10.1038/d41586-018-05823-5 (2018). Article Google Scholar 4. Trant, J. Nature 560, 307 (2018). Article Google Scholar Download references

Meditation on a Caltrain: Understanding where to travel to next

Exploring options and thinking laterally about where you can use your scientific skills might be the key to successfully transitioning into industry, learns George Busby. This piece was one of two winners of the Science Innovation Union writing competition, Oxford. "This is downtown San Francisco, our train's final stop. Can all passengers please detrain? All detrain please. All detrain." Perhaps it was the heady fug of jetlag that made this broadcast particularly amusing to my UK-English language sensibilities, but I "detrained" all the same and stepped into the crisp morning air of the Californian rush hour. I was on the west coast to visit two genetics start-ups as part of a whirlwind three-day tour of the US. With a long postdoc and several first author papers tucked into my belt, I wanted to see if these credentials would pass muster in the tech haven of Silicon Valley. I've always found the loneliness of solo work-travel to be highly amenable to strategic thought, and this American adventure was an opportunity to reflect on why I was there and what I wanted. Back in Oxford, a few months earlier, I had begun to line-up my post-postdoc career options. A new and exciting big-data research institute has just opened and my supervisors were keen that I apply for money to start my own research group there. Excited by the prospect of doing interesting science somewhere new, I began to piece together the semblance of a research proposal with collaborative support. But then a strange thing happened. As the project began to take shape, the light at the end of the tunnel — the prize of scientific independence — began to feel not closer, but further away. Ahead of me were late nights and early mornings of writing pages and pages of a scientific proposal. After that, a year-long wait to find out that I'd been unsuccessful (a mere 15-20% of applicants for an early career Wellcome Trust Sir Henry Dale Fellowship get funded). Despite everything, my future was dependent on a number of factors that were out of my control. On top of this, there was the burgeoning realisation that no one actually reads the academic papers that I write. This is no moot point: writing papers is the main purview of a research scientist, and the central way we both communicate our results and measure success. However, compared to the proportion of the world's population who can read, the number of people that had sat down to ingest my latest, dense, and fascinating (to me at least) treaty on the population genetics of Africa, three years in the making, was minuscule. The words of a colleague rang in my head: "99.9% of scientific papers just don't get read". Did I really want to spend the next 18 months slogging it out against funding agencies to get my own money just to do yet more science that no one was going to read? I forced myself to think more fundamentally about what I wanted to do. If I wanted to use my science to make a real and lasting impact and do things that make a real difference in the world, then writing academic papers is only one route to success. So, I blew the cobwebs off my LinkedIn account and started to hit up my small network of commercial contacts to investigate what companies out there in the big wide world might value my hard-won scientific expertise. This led me to California, where the streets are paved with gold and to the heart of the world's tech industry. I'm by no means the first, and will certainly not be the last, person to have grown tired of the uncertainty of pursuing an academic research career. Despite the best efforts of university career departments, the option of staying in academia has always felt like the only real way to keep doing the science that I wanted to do: any other path would force a compromise or feel like I was quitting. But, perhaps I'd been looking at things the wrong way round. Rather than proposing whatever research was 'hot' at any given moment to funding bodies to maintain a decent university career trajectory, I should instead consider what my scientific ambitions are, then find the place to do them without limiting myself to academia. This way of thinking — that I could achieve my scientific objectives without compromise in either academia or industry — has been made possible for two reasons. Firstly, by luck as much as design. I work in a field, human genomics, where there are increasing options for work outside of universities: the number of commercial enterprises is exploding. If there was ever a time to jump into industry, it's now. Second, I'd underappreciated how employable I am. I've led methodological and analytical research projects, written papers, and worked to communicate my science. Coupled with some in-depth genomics knowledge, these are all highly desirable qualities in the biotech world. So I reached out to two Californian companies, both of which do scientific research that's not a million miles away from my day-to-day. Visiting them allowed me to see with my own eyes how work in industry differed from academia. I was surprised to learn that research jobs at both companies were not purely about making marketable products: there was a certain amount of trial and error to the work that they do, and not all of the research that they do is expected to end up as a viable product. They were also both mature enough to have teams of people working on marketing, accounts, PR, and software engineers, who were supported by the sales of the main product, but not scientists themselves. The possibility of collaborating with these people is exciting, providing new avenues for communicating and justifying the work of the research teams. Importantly, both companies sell my flavour of science to millions of customers — working for them would mean I could impact orders of magnitude more people, orders of magnitude more quickly than any scientific research I could hope to do in a university over the next few years. If impact and scientific reach is what I want, then this seems like a far better way to achieve it than waiting for a year to hear on the unlikely success of a research grant. I was beginning to feel like Lady Justice with my balance scales measuring the benefits and costs of academic versus commercial employment. Sure, academic research is dominated by uncertain funding cycles and can feel glacially slow at times, but that's not necessarily a bad thing. Some view it as a privilege to be able to devote one's time exclusively to fully understanding a specific question, and there's no denying the satisfaction that comes with finding stuff out. Plus, I've been fortunate enough to work with incredibly talented people who've given me the intellectual freedom to spend my days thinking about the things that I want to think about. There's clearly a lot to be said for being able to concentrate on the questions that one believes to be important and worthwhile. But with a wife and a growing family I've also reached the age where the pursuit of such scholarly freedom might appear not just selfish, but irresponsible. In common with around a third of UK families, both my wife and I work full time. Without my wife's additional income, my postdoc salary would give us a higher household income than around 42% of the population. So, despite almost ten years at university (and the debt to prove it) without two incomes, we'd be struggling to get above the median of household earners nationwide. And the double whammy of living in the least affordable city in the UK with the cost of childcare increasing at three times inflation year on year, even with two incomes, there is little monthly return on my educational investment. Moreover, from a purely financial point of view, it pays to work in industry as a life scientist, with salaries being up to 30% higher than academia. As peers from school and university began to financially pull away from me, first by buying cars that are younger than ten years old, and more recently upgrading their small flats for family houses, I've consoled myself in the knowledge that although I can't match them, I'm doing what I love. Who needs things anyway? But when you're spending a third of your take-home pay on rent and another third on childcare, there's little chance of saving much of the remaining third. Realising that you're never going to be able to buy a house in the city where you work starts to get mentally draining. Can I really justify doing the science I do, which, let's remember, no one actually reads, to just about get by? Of course, I'm far from being a pauper, or even a JAM, but wouldn't it be nice for either my wife or myself to reduce the hours we work to spend more time with our children, without having to drastically change our quality of life? There is of course risk of job security associated with working in industry, particularly for an early stage start-up. But, there is also risk associated with staying in academia, particularly given the number of PhD and postdoc scientists in the workforce, many of whom will be pushing for the same jobs. And, in industry there is the distinct possibility that your pay could match your scientific success, which is not the case when you're tied to a public sector pay scale. More than anything, my visit to California not only demonstrated that it's possible to do interesting and worthwhile science commercially, but that perhaps it's the only way to do some science. It would take many years and much grant money to generate the sorts of big datasets that some tech companies now have control of. If, as a scientist, you're interested in answering some of the big questions, perhaps it pays to ask yourself whether the best way to achieve your ambitions is through a start-up, rather than academically. What's more, at least in genomics, it's beginning to feel like detraining from the academic express onto the industry platform might be the best way to do the most relevant and engaging science. George Busby is a postdoctoral research associate in statistical genomics at the Wellcome Trust Centre for Human Genetics, University of Oxford.